Innovate Now, Africa's first Assistive Technology Accelerator Announces USD 20000 Prize for First Winner
Innovate Now has selected its first winner as part of the Global Disability Innovation Hub's Assistive Technology AT2030 Programme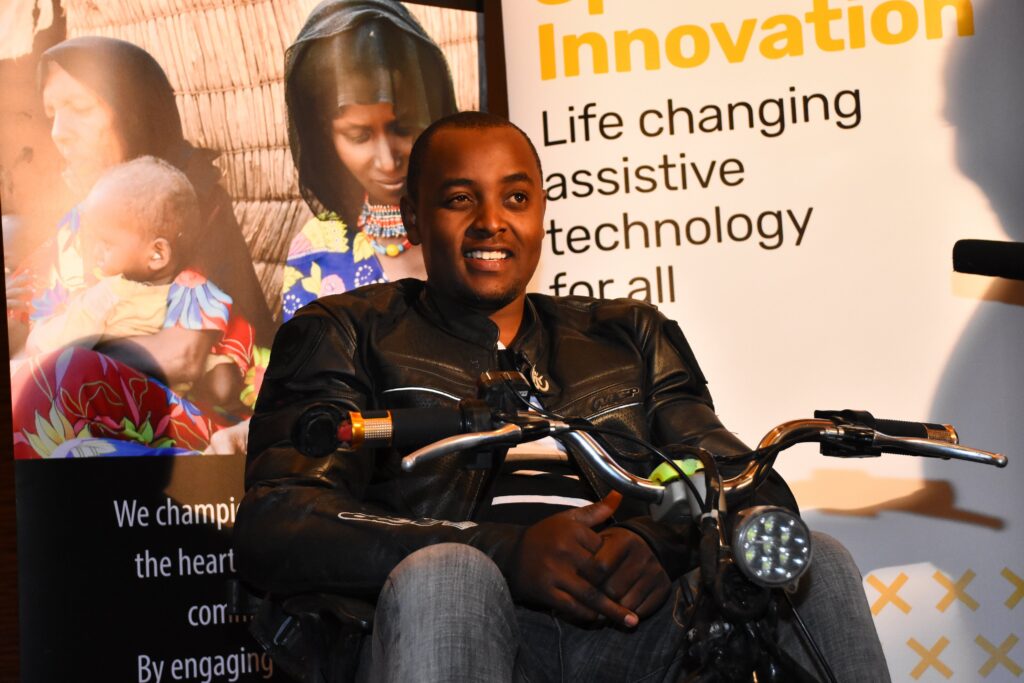 NAIROBI – June 15, 2020: Lincoln Wamae, Founder of Linccell Technology has won a cash prize of USD20000 (Approx. KES2M) from Innovate Now Accelerator Program and 3 months of technical dedicated support to scale his company's innovation – electric personal mobility product – that aids persons with disabilities.
Linccell Technology is a startup that is leading in the electric personal mobility industry in Kenya and putting wheelchair users in the frontier of this revolution. The company has designed and tested for persons with disabilities, wheelchairs that can withstand the toughest off-road conditions in Africa, as well as convenient for indoor use. So far, Lincell has sold more than a dozen wheelchairs in Kenya and aims to expand their offering into the Kenyan marketplace through the prize money and enhanced support package.
The winner was announced during the virtual Demo Day of Innovate Now where five finalists in Cohort 1 pitched their businesses and products to a panel of judges. This Assistive Technology Accelerator is implemented by Amref Enterprises Limited (AEL) and Global Disability Innovation Hub, alongside local ecosystem partners and is part of the UK aid-funded AT2030 Programme.
The finalists, who have undergone an intensive 6 months acceleration program, have gained exposure to international investors and opportunities to co-design and test their products with persons with disabilities. The Innovate Now Live Labs network was key to validate ideas and products. During the virtual Demo Day, the finalists demonstrated Rapid Assistive Technology testing and feedback, showcasing dynamic community-based solutions to global challenges. Users of the innovations were at the heart of the product and service development.
"Involving people with disability at every stage of the innovations is a sure plan to break discriminative barriers that limit the potential of many. I was glad to note all the projects had a strong user-centred approach to their product development," said Josephine Gitonga, Social Development Officer, DFID who was one of the judges.
The free accelerator model combines mentorship, workshops, guest lectures and hands on disability expertise to help our startups reach product-market fit and become investable and scale ready. The program uses an innovative active learning model and Live labs to provide the best possible support to innovators by helping them overcome barriers to scaling Assistive Technology.
"Innovate Now is a great program aimed at helping ventures develop assistive technologies that are not only groundbreaking, but homemade hence customized with the local knowledge, thus lowering costs for persons with disabilities, most of whom are underprivileged," observed Senator Isaac Mwaura, Chair of the Innovate Now Board.
During the acceleration program, Cohort 1 finalists benefited from learning centred on user, market, product and business development and mentorship from experienced entrepreneurs, product developers and disability experts. Innovate Now will support 60 start-ups in total, a quarter of which will track to scale during the next three years.
Jane Marriott, British High Commissioner commented:
"The UK is committed to ensuring disability inclusion is at the heart of all our work. We are delighted to be trailblazers in the Assistive Technology acceleration programme in Africa, through the AT2030 programme. We will continue to work with the Government of Kenya and the private sector to help change the way businesses and citizens engage people with disabilities."
With statistics showing that close to 1 billion people globally do not have access to Assistive Technology and the gap is likely to double by 2050, the Accelerator Program seeks to close the gap that exists between persons with disabilities and their access to assistive technologies.
---
About Innovate Now
The Innovate Now project provides advanced user-centred design, business and technical support to over 60 start-ups to develop assistive technology innovations, products and services. Innovate Now was launched in June 2019 and is funded by UK Aid, through Global Disability Innovation Hub (AT2030 lead partner) and is being led by Amref Enterprises Limited (AEL) in Kenya. More information at: https://atinnovatenow.com/
About AT2030
The AT2030 programme will test, over five years, "what works" to improve access to Assistive Technology and will invest £20m to support solutions to scale. With a focus on innovative products, new service models, and global capacity support, the programme will reach 9 million people directly and 6 million more indirectly to enable a lifetime of potential through life-changing Assistive Technology. AT2030 is led by the Global Disability Innovation Hub and is funded by UK aid from the UK Government. More information at https://at2030.org/
About Amref Enterprises Limited
Amref Enterprises Limited (AEL) is the social enterprise arm of Amref Health Africa, the largest Africa-based international NGO. AEL is responsible for delivering sustainable social value through incubation and commercialisation of innovative solutions, conceptualised and developed throughout the organisation. AEL works to strengthen the primary health care system, in line with Amref Health Africa's vision of creating lasting health change in Africa. More information at https://amref.org/enterprises/.
About Global Disability Innovation Hub (GDI Hub)
GDI Hub is a research and practice centre driving disability innovation for a fairer world. Based in East London and a legacy of the London 2012 Paralympic Games, GDI Hub delivers world-class research, ideas and inventions, creating new knowledge, solutions and products, and shaping policy through co-creation, participation and collaboration. More information at https://www.disabilityinnovation.com/
For more information, kindly contact:
Bernard Chiira
Director-Innovate Now
Amref Health Africa
Elizabeth (Lizz) Ntonjira
Head of Global Corporate Communications
[email protected]
Amref Health Africa