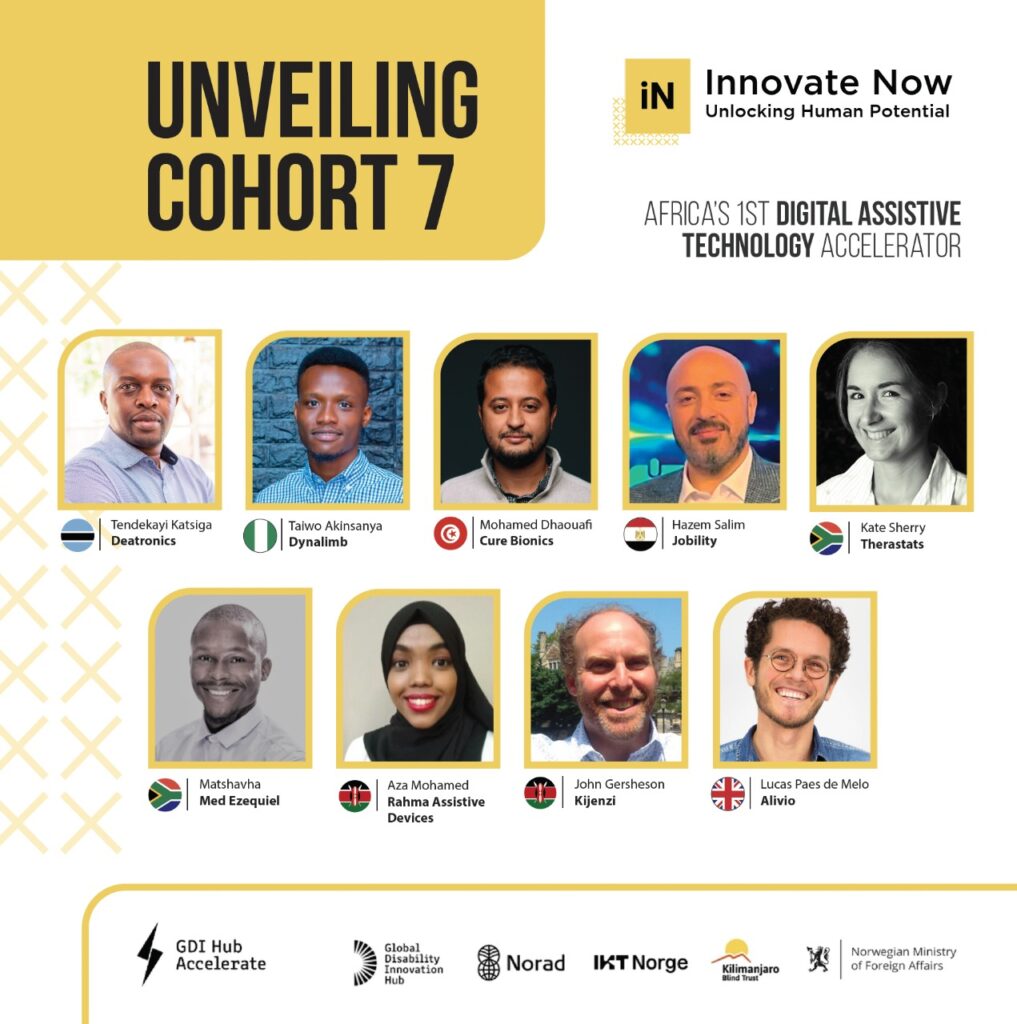 Global Disability Innovation Hub (GDI Hub) Innovate Now, Africa's first Assistive Technology (AT) accelerator, has announced its seventh cohort of innovators, which includes nine ventures that provide digital AT or use digital to increase access to AT products or services. These innovations address the needs of users with hearing impairment, mobility issues, employment for people with disabilities, and easy access to assistive products, and cut across the health and wellness sectors.
The start-ups will benefit from a six-month program which includes an immersive and inclusive innovation curriculum, venture building, user-centered research through the Live Labs network, expert mentorship, and investor linkages to accelerate the scaling of assistive technologies to market. The ventures will work towards pitching at a demo day scheduled for June 22, 2023
Below is the list of start-ups selected for this cohort:
Jobility, based in Egypt and founded by Hazem Salim, is a recruitment portal dedicated to assisting people with disabilities in finding meaningful employment opportunities. They offer a variety of resources to assist job seekers with disabilities in obtaining the assistance they require to succeed.
Dynalimb based in Nigeria and founded by Taiwo Akinsanya, is a patient-centered healthcare company focused on innovating medical devices used in the rehabilitation of patients with disabilities and amputations.
Deaftronics is co-founded by Tendekayi Katsiga and based in Botswana. The company has developed the first solar powered and rechargeable hearing aid battery, which lasts for 3 years and can be used in 80% of hearing aids on the market today. The company also uses a smartphone application known as mDREET, which allows for hearing screening assessments.
Cure Bionics is a Tunisian-based company created by Mohamed Dhaouafi, creates and manufactures lightweight, personalized bionic arms for adults and children that are 3D printed, size-adjustable, and muscle-controlled.
Med Ezequiel is a South African company founded by Matshavha Pontsho that sells and distributes assistive devices to individuals and organizations via a physical and online platform.
Kijenzi is a Kenyan-based company founded by John Gersheson that uses localized digital manufacturing hubs to mass produce custom fit prosthetics and orthotics (P&O) in less than 24 hours for clinicians and clinics.
Alivio, is a UK-based company founded by Lucas Paes de Melo that manufactures low-cost lower limb prosthetics and solves the accessibility problem by providing services remotely at the patients' convenience in Kenya. Alivio's Social Franchising network of mobile clinics makes this possible.
Rahma assistive devices (RAD), founded by Aza Mohamed is a Kenyan based company that provides a freewheel mobility chair to be used in Geriatric and Palliative care in order to increase the range of mobility of its users while preventing injury. FreeWheel ensures seamless lifting and transfers of the patient while enabling them to sit and stand unassisted.
Therastats is a web-based service management app for rehab and AT service providers working with communities facing high access barriers to health and disability services. We believe good data management can empower providers to get their services to the most vulnerable.
The digital AT and entrepreneurship project under Innovate Now is a partnership between Global Disability Innovation Hub (GDI Hub), ICT Norway, Norad and Kilimanjaro Blind Trust to recruit the next generation of cutting-edge disability innovators to drive Africa as a technology powerhouse. Innovate Now was established as part of the UK aid funded AT2030 programme which brings together global stakeholders to accelerate disability innovation through partnership and collaboration. This new phase of Innovate Now is aimed at catalyzing philanthropic and private capital to further build, grow and increase investment for the assistive technology start-up ecosystem in Africa
About Innovate Now:
Innovate Now is Africa's first assistive technology (AT) accelerator, powered by GDI Hub and hosted by Kilimanjaro Blind Trust Africa, in Nairobi Kenya. It was launched in 2019 and to-date has supported more than 60 AT founders, 30 AT ventures and delivered more than 500 hours of mentoring and coaching across 5 cohorts. Our founders are spread across Kenya, Uganda, Nigeria, and the United States, forming one of the fastest growing and largest AT Startup ecosystems in the world.
For more information, kindly contact:
Bernard Chiira
+254720387252
Program Director-Innovate Now
Kenya Country Representative – Global Disability Innovation Hub